The online Fundamentals of Intrusion Alarm Systems Certification course covers the following, but not exhaustive, topics: pioneers in the field of alarms and their contributions, understand the difference between a smoke alarm and a system smoke detector, the physical environment and possible sources of false alarms, device and system testing, acquire a framework understanding of the basic functions of a control panel, learn how to execute protection from damage by intruders, spikes, and surges, gain the ability to walk into any commercial and/or residential scenario comfortably survey a job site, properly analyze the client's situation for video system design, appreciate the impact local notification can make by informing the general public of an event needing their "immediate attention," e.g., intrusion or fire, experience the perspective of both the burglar and the homeowner about the presence of a professionally installed alarm system onsite, describe the public safety perspective on false alarms, reinforce the need for alarm companies and its technical and sales employees to commit to reducing false alarms, and realize how proficiency is reflected in the outcome of one's work. 
Certification Hours: 7
Approved for Certification Credit in: Skill Enhancement
Online Certification Course Layout:
All approved courses, curriculum, & quizzing will be offered through a self-paced web based training platform.  The Certification Test (i.e. final exam) will be a one-hour proctored final exam with a nationally recognized testing company.
Each group of topics will be divided into titled and clearly identified modules ranging from 1 to 2 hours, for a total of 7 hours.

   

NOTE: Course modules will be delivered through SCORM standard LMS (Learning Management System) compliant software.
All online course modules are self-paced and can be logged off and on at anytime to where they left off.

After each module section is completed a mandatory quiz of ten questions will be given, on which learners must score of 70% or better in order to pass and receive course credit.
Final Exam:
Proctored Final Exams are taken ONLINE with national testing company, Proctor Exams.
Please verify that you can meet system requirements to complete the final exam.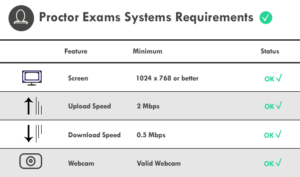 After all module sections have been completed, use the automatic single sign-on button to access your Exam via Proctor Exams. This access will appear only after all applicable coursework has been completed.

Using your Elite CEU login you will complete the proctored 60 question final exam.

Once the final exam is passed with a 70% or better, and the Exam Verification has been completed,  Elite CEU will be notified and a Certificate of Completion will be processed and sent directly to the student within 2 business days of Exam Verification.  

We will also send a copy of the certificate to the appropriate governing security board (if required).    
    NOTE: If a student fails to pass the exam, they can immediately retake the online proctored final exam and will pay a $45 retesting fee to Proctor Exams. To purchase an exam at a later date, use your Elite CEU login to to access your single sign-on for purchasing.
ELITE BULK PRICING
If you need multiple Certifications for a larger number of students/employees, please see our Bulk Pricing below!  This reduction is based on groupings related to the number of students being enrolled at one time. Discounts are received via our Bulk Registration or Bulk Enrollment features.
| | |
| --- | --- |
| Number of Certifications | Price per Certification |
| 1 – 9 | $249 |
| 10 – 30 | $239 |
| 31 – 50 | $229 |
| 51+ | $219 |