In this CCTV training course, you will learn:
Students will be guided through various topics concerning CCTV system design and engineering, including the functional requirements of a video surveillance or CCTV system.
Participants will learn the basics of system design to FBI specifications
Participants will learn how to maintain systems to meet the needs of law enforcement for evidence retrieval
Technologies such as VCRs will be discussed in addition to more current and widely used storage devices such as DVRs and NVRs
Students must understand which cameras are most appropriate for varying situations
Technicians and operators should be able to easily utilize equipment
Upon completing the lessons the student should know how to deal with installation, wiring, and their own legal parameters
Students should come away from the course ready to deal with cameras in the real world
Understand the functions of camera lenses
Determine the proper types of lens to use for each unique setup
Identify situations in which special arrangements must be utilized for optimal viewing
Obtain deep knowledge of the accessory components that make up a video surveillance system
Understand the practical uses and functionality of auxiliary components
Understand how to use specialty components in specific applications
Learn how to properly plan, install and correct deficiencies in network communications between components of a video surveillance system
Understand technological specifications that go into establishing proper network connections for these devices
Learn the terminology associated with networking, and the names of useful equipment and procedures
Understand how to setup and utilize a network so that it can function to their advantage
Learn about the various types of commercially-available monitors
Understand the importance and workings of image quality
Overview monitor resolutions and setup
Understand the types of recording devices available for video surveillance systems today
Learn the basic functions of system components
Learn how to prevent and troubleshoot common recording issues
Provide the knowledge needed for the student to properly plan and implement power and electricity to every component in the video surveillance system
Understand how to calculate voltage/current/resistance
Keep individuals safe from electrical harm
Gain the ability to walk into any commercial and/or residential scenario comfortably survey a job site
Properly analyze the client's situation for video system design
Understand how light works and how proper lighting is important in considering the proper camera selection and placement
Learn how to avoid the complications that can arise through camera lighting
Know the lighting options available, and what should be used based on the situation
Learn how to lay out and design a video surveillance system
Understand how all the components fit together to provide a complete CCTV solution
Realize the importance of testing each and every element of the entire surveillance system.
Ensure a fully functional and properly designed system that will work efficiently.
Achieve maximum customer satisfaction from a working camera setup and clean environment.
Understand how to troubleshoot a video surveillance system
Learn what to do in situations of malfunction or damage to the circuits
CCTV Online Training Course:
All approved courses, curriculum, & quizzing will be offered through a self-paced web based training platform.  The Certification Test (i.e. final exam) will be a two-hour proctored final exam with a nationally recognized testing company.
Each group of topics will be divided into 13 titled and clearly identified modules ranging from 1 to 2 hours for a total of 15 hours.

  NOTE: Course modules will be delivered through SCORM standard LMS (Learning Management System) compliant software.

All online course modules are self-paced and can be logged off and on at anytime to where they left off.

After each module section is completed a mandatory quiz of ten questions will be given, on which learners must score of 70% or better in order to pass and receive course credit.
Final Exam:
Most Final Exams are taken ONLINE with national testing company, Proctor Exams.  Upon completion of your Certification Course, you will be directed upon the method of how to complete your proctored final exam.
Please verify that you can meet system requirements to complete the final exam.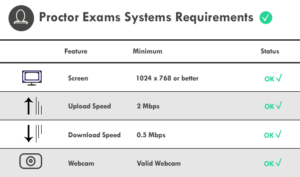 After all module sections have been completed, use the automatic single sign-on button to access your Exam via Proctor Exams. This access will appear only after all applicable coursework has been completed.

A picture ID is needed in order to take the proctored two hour final exam.

Using your Elite CEU login you will complete the proctored 100 question final exam.

Once the final exam is passed with a 70% or better, and the Exam Verification has been completed,  Elite CEU will be notified and a Certificate of Completion will be processed and sent directly to the student within 2 business days of Exam Verification.  

We will also send a copy of the certificate to the appropriate governing security board (if required).

NOTE: If a student fails to pass the exam, they can immediately retake the online proctored final exam and will pay a $55 retesting fee to Proctor Exams. To purchase an exam at a later date, use your Elite CEU login to to access your single sign-on for purchasing

.
ELITE BULK PRICING
If you need multiple Certifications for a larger number of students/employees, please see our Bulk Pricing below!  This reduction is based on groupings related to the number of students being enrolled at one time. Discounts are received via our Bulk Registration or Bulk Enrollment features.
| | |
| --- | --- |
| Number of Certifications | Price per Certification |
| 1 – 9 | $299 |
| 10 – 30 | $289 |
| 31 – 50 | $279 |
| 51+ | $269 |